Illustration for PLANSPONSOR
Spirit-Trumpet
PLANSPONSOR
for the Apr/May 2019 issue of PLANSPONSOR
The Bard
Fireflies
the last panel in a four panel comic called Fireflies
Part of a series of 5 images that were accepted into the Society of Illustrators annual 61 exhibit and book. The series is called Quiet and was meant to be a form of meditation for myself during a period of unrest and difficulty.
Noodle Shirt Design
An illustration shirt design that was made for the reopening of a restaurant in Decatur, GA called Noodle.
Washington Post Express Halloween 2018 Cover
Ghost Commander Poster
A poster for a live streamed Halloween experience on Twitch
Blair
Santa
"s-santa?…" whispered little Jimmy
Santa's Coming
Sentient Rock
Peopled Places
Father's Day
Dedicated to my dad. I grew up looking at his vibrant paintings of trailer homes and houses. To this day I still think his art impacted my own aesthetic.
I remember practicing baseball with him during the summer time. I never really enjoyed baseball, but I always think fondly on those days when the cicadas were calling and I could smell the leather mitt on my hand and the grass baking in the sun.
Election 2016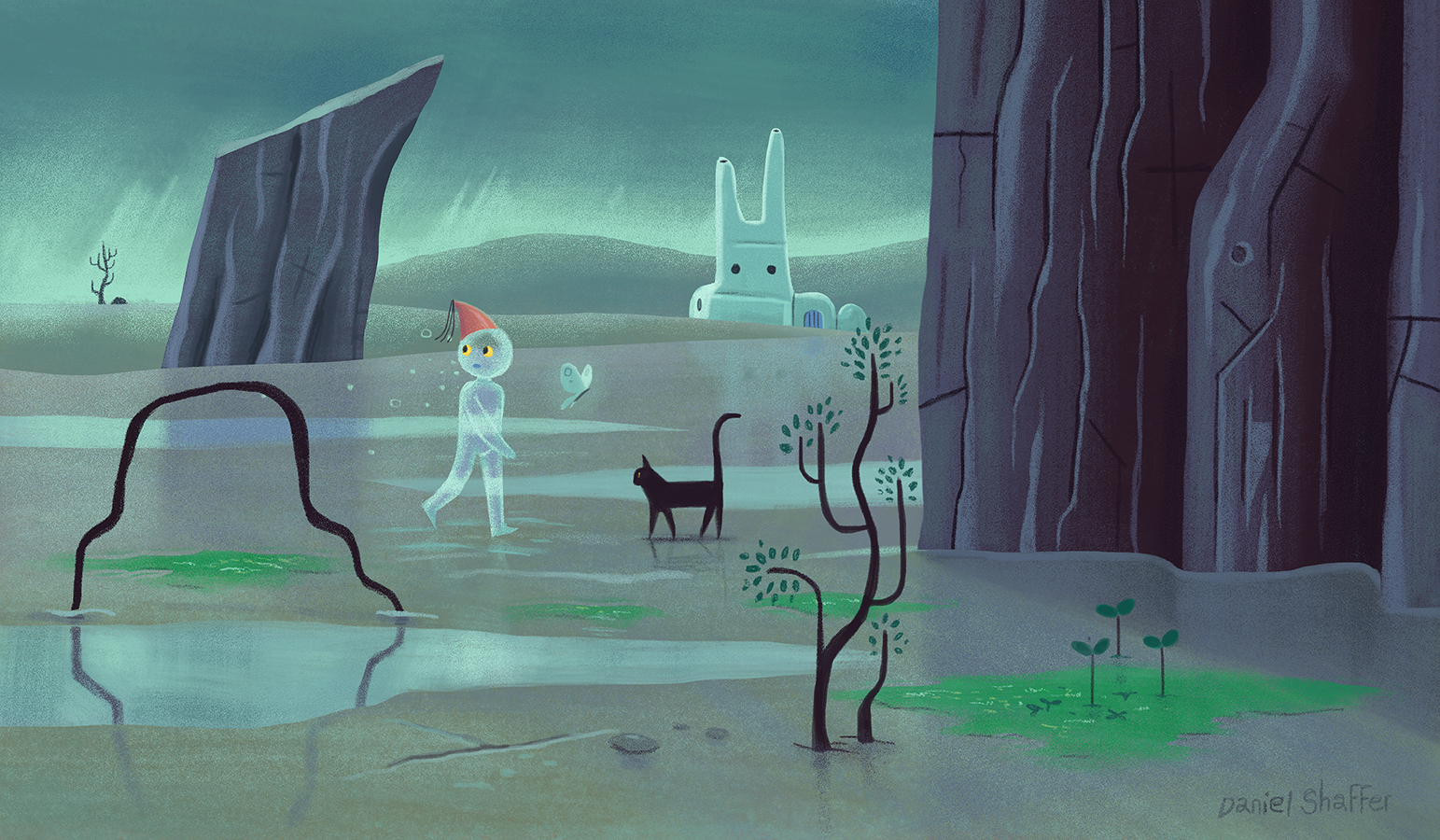 Limbo
Washington Post Express Halloween 2018 interior
Adopted
Farewell to 2016
Ghost Motel
OK
Untitled
Engaged
A commissioned portrait for a newly engaged couple
Shepherd
Lucy
Snow
Yule Duels - Washington Post Express
Tesla - OKCupid
For an article on OKCupid's blog site: Tesla
The Golden and Silver Axe - Samsung Publishing
Spread 6 of the children's book The Golden and Silver Axe that I illustrated for Samsung Publishing
Dream
Firestarter
Donald Trump has started a fire in the United States
Mononoke
A poster dedicated to one of my all time favorite films Princess Mononoke.
Nothing of Note Occurred
Clouds
Crossbreed Priscilla
Based on the game Dark Souls
Star Man and the Black Rainbow
Ms. Spider
An illustration of the character Ms. Spider from the book James and the Giant Peach.
Peopled Places
Ordinal Numbers - Teacher's Discovery
I made a poster for Teacher's Discovery that focuses on Ordinal numbers in both French and Spanish. This is the version with Spanish text. See both versions HERE
Protecting Life - Light Grey Art Lab
An illustration of a Cosmic Turtle for Light Grey Art Lab's Guts gallery show.
Portal
Father's Day
Is Someone There?
Ghost Queen
Air
Goodbye October
The Green String
dedicated to my dog Wally who passed away in January of 2017